This year marks the 10th anniversary of our amazing company. It has been such an adventure and one we are very proud of. We wanted to take this time to reflect back over the years and remember how far we have come.
How P&R started:
Damian & Camron were friends for many years before starting the company. They were working as Superintendents when they first began to discuss the prospect, but eventually they both moved on to work different jobs. Keeping in touch throughout the years, they never forgot their dream of starting a construction business together.
When the recession hit, it seemed the perfect time to build a company that would be viable in many construction sectors while being as recession-proof as possible.
"First, we had to sit down and sell our business plan to our future CFO, my wife Lisa, which none of what we have created could be possible. While she worked her full-time job, she continually gave countless hours, as she does today, to develop and run our complete financial foundation."
After deciding on the company name, getting a logo made and officially registering the business, they were set to go! Major networking, taking any jobs available, which included painting and mowing lawns, they worked tirelessly to get P&R Property off of the ground.
From a little run-down office behind a feed store, to the new office with 20 employees in Downtown Apex, the company has continued to grow year after year. Learning & evolving over time and always trying to live by the values of Respect, Integrity & Transparency.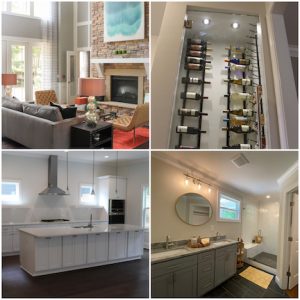 P&R continue to strive to give back to their employees & the communities they live and work in. Constantly remembering to show appreciation for what they help the business to achieve.
Looking to the future:
"10 years has gone by so fast and we have grown so much, yet there is so much more we want to achieve. We welcome new challenges and strive to get better every day so we can watch what we have created evolve to a business of strength for the next decade to come."
We are truly thankful to all of our loyal customers, employees & families – Here's to the next 10 years!