Preparation is key during hurricane season. As long as you have taken the right precautions, there's no need to worry. Below is a simple list to help guide you during this time.
Be Prepared:
Stock up on non-perishables & water. If you can't find water, do not worry. Fill all the items you have at home with tap water for future use. Remember to have a can opener also!
Have gas on hand for grill use. If power is out, you'll at least have a means to cook hot food. Try to store a 2nd gas can for emergency situations.
Secure outdoor furniture, trash cans and trampolines. This is a must. Outdoor items can become projectiles during high winds. You don't want to be responsible for destruction to other homes during this time and the less damage to any property is best.
Fill buckets/bowls/tubs with water. This is mainly important if you are on well-water. If you lose power, your well will not work and you'll have no water at all. Even on city water make sure you have some supply at hand for major outages that cause city pumps to stop working and/or contamination.
Stock up on batteries and flashlights. No power at night means no light. Have a way to see in the darkness with flashlights, lanterns and candles; but be very careful and safe with candle use!
Fill up cars with gas or charged. It is always a good idea in emergency situations to have your vehicle fully filled. You can use your car to charge electronic devises and it's always best to have a way to evacuate if it's needed.
Charge phones and other electronics the day before the storm is to hit. Also have extra battery packs available.
Taking these simple steps to prepare for a hurricane will ease your mind and calm your fears. Our printable checklist below is a great tool to help avoid forgetting anything vital.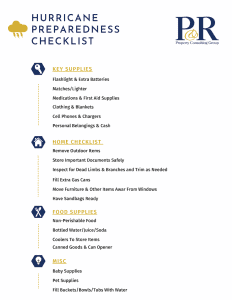 After the Storm:
Remember, we are here to help with any repairs or maintenance and the aftermath of Mother Nature! Our service team are quick to arrive and asses the situation and will work with you and your budget.
For our Multi-Family Property owners and/or managers without power, remember we do Fire Watch to keep your communities safe at all times. We take our Fire Watch duties very seriously and have an amazing team wiling to work through the night to do so.
Contact us today for any weather-related issues and renovation needs!