Summertime is here, and Fall is around the corner! Are you looking for that perfect backyard project? A new deck, patio, fire pit, or even a screened-in porch? We can help you achieve that dream by creating the perfect back or front yard addition.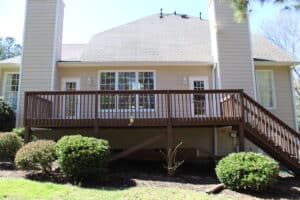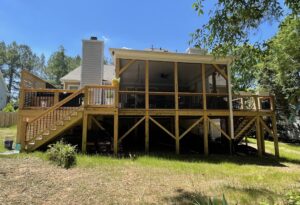 BEFORE                                                                                 AFTER
     In this project, we took an average back deck and turned it into something truly beautiful! This deck was completely remodeled, expanded, and sectioned off, so every area had a designated purpose. On one side of the deck, we added a privacy screen that goes perfectly next to the new hot tub, as well as a new set of stairs to the backyard. We added a 20′ x 20′ screened porch in the middle with doors on both sides for easy access. Let's not forget the doggy door for this owner's brand-new puppy! Lastly, on the other side of the screened porch was a space dedicated to grilling and a new repositioned second staircase leading to the backyard. Topping it off with new fixtures and some amazing outdoor furniture, this deck is a dream. If you would like to see some more photos up-close of the deck and inside the house, please check out our social media pages!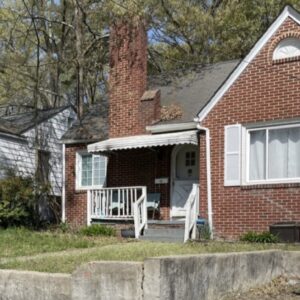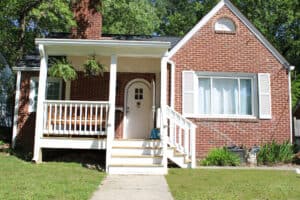 BEFORE                                                          AFTER
     We started this project by replacing the roof and updating the gutter system. We then added a brand new covered front porch with two new staircases. One staircase was added to the side of the porch to create an easy entrance from the newly added sidewalk that leads to the driveway. We added exterior grade beadboard as accents on the ceiling, and with some new plants and furniture, this porch is ready to enjoy!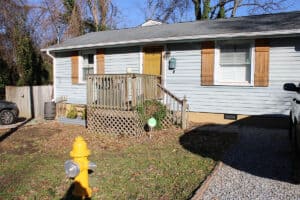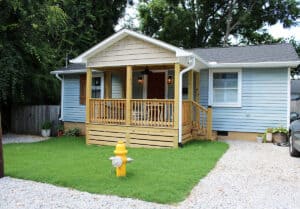 BEFORE FRONT PORCH                                               AFTER FRONT PORCH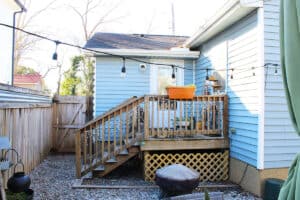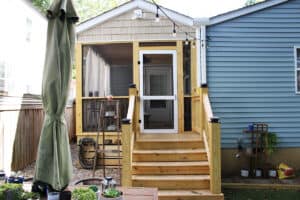 BEFORE BACK PORCH                                               AFTER BACK PORCH
     For this project we remodeled both the front and back porch of this house. Both porches were demolished and then larger, covered porches were constructed. The back porch was screened in with pet-resistent insect screen that was heavier duty and more ideal for pet owners while the front porch had new sconces and a sliding dog gate installed.  A new roof and tankless water heater were also included as part of this project. The front lawn grading was reshaped to channel water across and Bermuda grass sod was installed to help control erosion and keep the grade at the corrected level. Finally, fans were installed to the center of each porch so they are ready to use during any season. For a close look inside each porch check out our social media pages!
We hope our clients can enjoy their new additions and can now spend time outside comfortably. Contact us for any of your home renovations!