We are finally seeing some nice weather changes up ahead. Warmer temps bring the blooming of flowers and the urge to refresh our surroundings.
Being proactive now can help save you time and money in the future. Completing a clean-out & organization every 6 months can make all the difference to your wellbeing. Therefore, Spring & Fall are the typical and perfect time to get started.
Landscaping:
Fertilize and seed where needed and think about installing a sprinkler system for easier maintenance.

Seasonal plants and shrubs should be planted after the last frost of the winter. Although Mother Nature likes to throw curveballs our way, the mid-to-end of March is usually a safe bet.

Replace or replenish flower beds with mulch or pine straw and prune those bushes ready for their rapid growth.

Add a fresh "Welcome" sign and some updated LED or SOLAR walkway lights to finish the newly updated look.
Exterior of the Home:
Powerwash siding & walkways. It will refresh the outside of your home and set it up for welcoming the summer.

Clean your gutters and down spurts from any lingering Fall leaves and debris.

Consider having your roof and attic areas inspected for any damage from the harsh winter weather.

Do a thorough walk-round of the homes exterior to check for any issues that may have been caused during the cold season.

Inspect your decks and patios for any rotting wood or mold and replace your outside furniture as needed.
Interior of the Home:
Inspect and change as needed the batteries of smoke & carbon dioxide detectors.

Change air filters regularly. Spring brings with it pollen and allergens galore!

Inspect and clean your windows inside and out.

Clean the dust and accumulation from ceiling fans that will likely have built-up with lack of use.

Consider adding some fresh coats of paint to certain rooms to lighten them up.

Clean & organize your pantry and refrigerator.

Give your garage or outside storage some love with a good clear out.
Our repairs & maintenance team are available to knock-out many of these tasks before they become a bigger problem, preventing stress or worry on your part. Lastly, consider our disinfecting service to get your home sanitized with ease.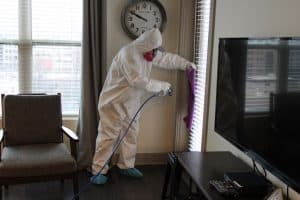 Contact us today to see how P&R can help keep your home or business in tip-top shape.